|~ Gen. Information ~|
Aliases / Names:
Kutséda Géruto Vérju
Age | Birthplace | Gender:
18 | Pallet Town, Kanto | Male
Trainer Rank:
New trainer
|~ Characterization ~|
Appearance: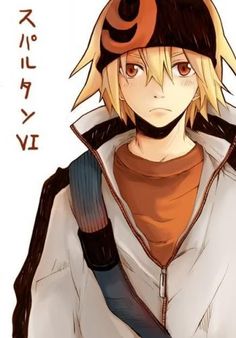 Personality:
Kutseda plays smart, he likes to analyze things and keep attention to almost everything, especially in battle. When witnessing someone using an attack, whether his battles or watching someone else, he will say an analysis of the attack being used and won't generally repeat in the same battle. Most of the time you can see him in a serious mood, but when sitting down and having a conversation, he will actually have a more fun manner. Kutseda is partly curious and also well aware of his surroundings, this leads to him being able to eavesdrop on thing easily or figure out what is going on quickly. Kutseda is used to travelling with just Bulbasaur and Beedrill, but he would still prefer to travel with someone he could speak to easily. Generally when he sees someone upset, he'll become upset as well, he'll try figuring out what's wrong then try to help solve the situation.
Battle Style:
Analyze pokemon, attack, and opponent's current strategy, while figuring those out, he dodges as much as possible then use the enemies fatigue and learned weaknesses against them
Past Experience / History:
When Kutseda was 5, he moved to Pallet Town from Floaroma town in Sinnoh after his older brother Lekotu had lost against the 5th gym for the third time. After moving, Lekotu talked about seeing what kind of herbs are in Kanto and this made Kutseda curious. At the age of 6, Kutseda seen his brother carrying a box to the kitchen and he watched from a distance, watching his brother drying and smashing up what looked like flowers to him and watching him create all sorts of herbs. After that, he asked his brother to teach him what he was doing, he did so for a while until his birthday and decided it be best to enroll Kutseda into studying pokéherbology, pokébiolgy, and pokéology. From the age of 7 till the age of 14 he learned that everything has a weak point, and that knowing them can win you a tough match. During the time he was 10, he recieved Bulbasaur who had a secret to him from the Prof, a pokemon with the egg move Giga Drain, he spent a little bit of time learning how to properly use a pokemon, and eventually combining his skills with his knowledge of his studies.
After he felt like he knew enough of his time study, he took a year break when he was 11, he stopped to spend more time with friends and family, they went out and trained a lot with their pokemon, and on this training, he found a poor Weedle who was recently beaten pretty badly, so Kutseda took care of him until he was better and stronger, but in a year Kutseda was about to let him go, the newly evolved Beedrill wouldn't leave and became his second partner. Kutseda's final event before leaving for his adventure, was learning to defend for himself as he can't always relie on his pokemon to help him out in dire situations, so at the age of 14, he stopped studying pokeherbology, pokebiolgy, and pokeology, and started taking martial art and does a little bit of exercise each day. After 4 years has passed of this and practicing to up his pokemon's stamina and practicing strategy ideas, he finally quits, he tells everyone a goodbye and finally takes his leave after so long of staying in his hometown, Pallet.
|~ Inventory ~|
Badges:
~Kanto~
~Hoenn~
~Johto~
~Sinnoh~
~Unova~
~Kalos~
~Other~
Money:
$6,200
Items:
05x Pokeballs
|~ Pokemon ~|
Species:
Bulbasaur
Nickname:
Gender:
Male
Level:
12
Experience:
0
Ability:
-Overgrow- When health is low, grass type attacks are increased to 150% attack power
Personality:
Bulbasaur is Kutséda's loyal pokemon, he makes sure to always help Kutséda as much as he can
Moves:
-Tackle- Weak, Body to Body, Physical Attack, High Accuracy
-Growl- Sound Move, Weakens Attack of Enemy, High Accuracy
-Leech Seed- Status Ailment, Drains Health Off Opponent to Heal User Every Turn, High Accuracy
-Vine Whip- Weak, Ranged, Physical Attack, High Accuracy
-Giga Drain- Moderate, Ranged, Special Attack, User Heals Half the Damage Dealt, High Accuracy [Egg Move]
Species:
Beedrill
Nickname:
Gender:
Male
Level:
13
Experience:
0
Ability:
-Sniper- Critical Hits do 225% attack power rather than 150%
Personality:
Although Beedrill is usually a very aggressive pokemon, this Beedrill and its current owner have a bond that calms the pokemon.
Moves:
-Poison Sting- Weak, Body to body, Physical attack, Small chance to poison, High Accuracy
-String Shot- Status Ailment, Ranged, Slows, High Accuracy
-Harden- Buff, Improve defence, Can't fail
-Fury Attack- Weak, Body to body, Physical attack, Attack 2 to 5 times, Moderate Accuracy
-Focus Energy- Buff, Improve critical hit ratio, Can't fail
-Roost- Heal half of hp, Removes Flying typage from Pokemon, Can't fail [TM19]